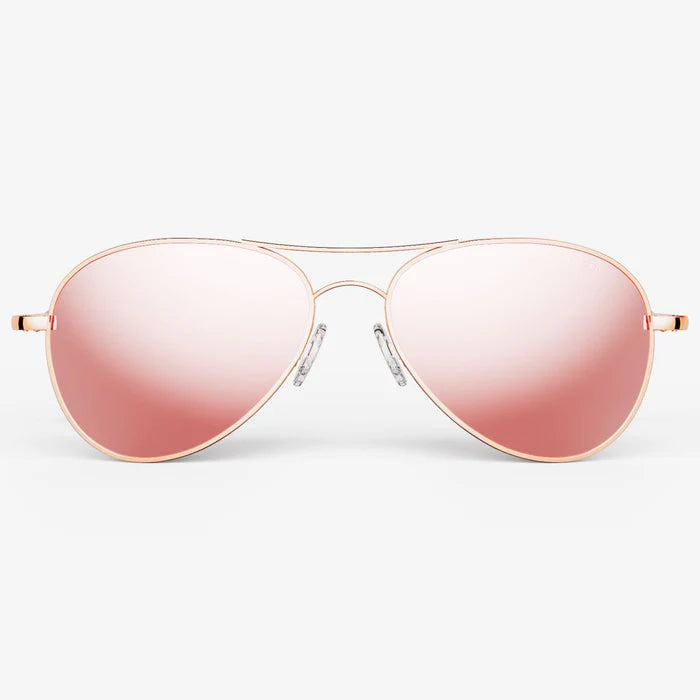 Randolph Sunglasses AA002 57mm AMELIA - 22K ROSE GOLD & ROSE GOLD
The Amelia frame, named after Amelia Earhart - the first female pilot to fly solo across the Atlantic, is our subtle teardrop style designed to complement any face shape. Handcrafted in the USA with jewelry-quality finishes and a lightweight lens, the Amelia captures authentic aviator style.
22k Rose Gold Jewelry Quality frame finish.
Rose Gold - A stunning shiny rose pink multi-layer mirror on the outer lens reduces glare and provides a neutral, darkening all-purpose tint.
Non-Polarized - UVA/UVB Protection.
SkyForce™ Nylon lenses with Vector™ Anti-Reflective & Blue Wave™ lens technology.
Classic Skull Temples for all-day comfort.
Designed & Handcrafted in the USA in over 200 steps.
Embossed Hard Case & Microfiber Pouch
Brings Lone Star Flare to Classic Styles for Men
Texas Standard
FIFTH-GENERATION TEXAN Drew Bagot and his wife Christine wanted to create a brand that exemplifies what it means to be a Texas gentleman.
Its clothes made with exceptional craftsmanship and high-quality materials, their Austin-based startup Texas Standard embodies the unique Texas style and the Lone Star State's legacy.
Shop Texas Standard